On This Page
Who We Are
Purpose and Vision
Our purpose is to serve the community as a Christian resource and a welcome gathering place for individuals' spiritual growth.
Our History
In June of 1953, a group of Christians (many from First Christian Church in downtown Charleston) began discussions of starting a Christian Church in the "north area" – what is today North Charleston. A petition was passed, and by October of that year the church was meeting for Sunday School and Worship.
Before there was a church building, meetings were held at Liberty Homes School, now the site of the School of the Arts. Rev. A. Lynn Robbins was called to be the first full time minister of Rhett Avenue Christian Church.
The members chose the lot at the corner of North Rhett and Braddock where the church still stands today. A loan was secured from Church Extension in the amount of $18,000 to build the church. Groundbreaking was held on February 20th and the church was ready for its dedication on July 3rd of that year.
Rhett Avenue has grown as the Park Circle area has grown. We have had many members who were in the Navy and so we were sad to see the shipyard close in 1996. However, we've been excited to see so many of the changes in the area since then. While our current members come from all over Charleston, we think Park Circle is an especially great place to live, to have fellowship, and especially to worship.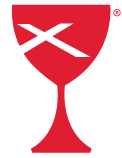 From our very beginning, the Disciples of Christ have striven to be a place where all Christians are welcome. Our founders were troubled seeing all different denominations arguing against each other.
If you visit us more than once, the main thing you'll notice is that we share the Lord's Supper every week. It is the heart of our worship. We also encourage individual spiritual growth in a shared community. So instead of specific doctrines we have been known for having certain catch phrases. Some that describe us best include:
We are not the only Christians; we are Christians only.
No creed but Christ, no book but the Bible.
In essentials, unity; in non-essentials, liberty; in all things, love.
Where the Bible speaks, we speak. Where the Bible is silent, we are silent.