What to expect when you visit.
On This Page
Worship
Worship is at the heart of all we do. We have one communal worship service every Sunday at 11am. We celebrate communion at the Lord's Table as the center of every service. We invite any and all who want to follow Jesus, regardless of religious background, to join us in this life-giving spiritual feast.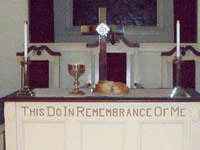 The sermons strive to bridge the gap perceived between our lives today and the living word found in scripture.
Musically, our service is blended. We use a piano, organ, and other instruments from time to time. We sing from our hymnal, but we also blend in new songs, using a projector to put the words on the wall.
Parking
Our parking is in the gravel lot right next to the education wing of the church. There is also handicapped parking on Victoria Avenue alongside the sanctuary. All doors lead to the sanctuary, so you can come in the front door, or walk down the hall of the education wing to enter by the front of the sanctuary. We will have greeters to guide you.
Nursery
Have children and wonder how that will work at Rhett? We have a colorful and playful nursery that is lovingly attended every Sunday from 9:45 until 12:15 (15 minutes before Sunday School until 15 minutes after worship). If we have a Fellowship meal or another special event after church, it will be staffed longer. All children are invited to join Pastor Brad for the special children's time during worship and then all children through 3rd grade are welcome in the nursery.
Our Denomination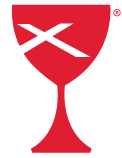 From our very beginning, the Disciples of Christ have striven to be a place where all Christians are welcome. Our founders were troubled seeing all different denominations arguing against each other.
If you visit us more than once, the main thing you'll notice is that we share the Lord's Supper every week. It is the heart of our worship. We also encourage individual spiritual growth in a shared community. So instead of specific doctrines we have been known for having certain catch phrases. Some that describe us best include:
We are not the only Christians; we are Christians only.
No creed but Christ, no book but the Bible.
In essentials, unity; in non-essentials, liberty; in all things, love.
Where the Bible speaks, we speak. Where the Bible is silent, we are silent.