What We Do
Worship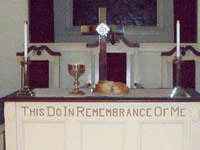 Worship is at the heart of all we do. We have one communal worship service every Sunday at 11am. We celebrate communion at the Lord's Table as the center of every service. We invite any and all who want to follow Jesus, regardless of religious background, to join us in this life-giving spiritual feast. The sermons strive to bridge the gap perceived between our lives today and the living word found in scripture.
Musically, our service is blended. We use a piano, organ, and other instruments from time to time. We sing from our hymnal, but we also blend in new songs, using a projector to put the words on the wall.
Community Events & Outreach
We love Park Circle, our neighborhood in North Charleston. We believe it is a great place to live and have a family, and we're excited by all the diversity it offers. We see part of our mission as fostering a since of community in this great neighborhood.
So three or four times a year, we move out into our church yard to put on fun community events including
Memorial Day/Rummage sale
4th of July Cookout
Back-to-School Blast
Halloween Trunk 'R Treat and Chili Cook-Off
If you see a crowd in our parking lot, just stop on in. We're probably out there for you.
In addition to events on our church property, we like to move out into the community for events of service and outreach. Two groups we are currently working with are the Lowcountry Food Bank and the Carolina Youth Development Center.
Young Adults
We have a great and growing group of young adults who live in and around the Park Circle area. We like to get together outside of church at least once a month.
In the past we've had dinner at someone's house, gone to concerts together, had game nights, and enjoyed some of Charleston's great night life.
Youth
We have monthly activities for youth of all ages. The first Wednesday of every month, Pastor Brad meets high school youth at a local coffee shop for "God Talk" where any topic or question is fair game. For elementary and middle school youth, we have a fun get-together once a month – in the past we've had movie night, game night, laser tag and plan to go to some RiverDog games.
Sunday School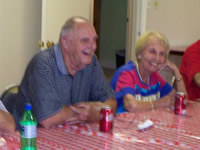 In Sunday School we hope not just to talk and learn about our faith, but learn how to put it into action. We have classes for everyone from infants all the way up.
Current Classes:
Founders Class
Every week, we dig deep into scripture, following the texts of the lectionary.
101 – 401 Class
A yearly progression of topics, where everyone is welcome at any time.
For 2009, the 101 class (Jan-March) is a journey through the Basics of the faith.
The 201 class (April-June) focuses on how to find a Purpose-Driven Life.
The 301 class (July-Sept) asks the question "How do we hear God's voice?"
The 401 class (Oct-Dec) will focus on how to share the good news.
Children
Our children's class is available to all children through 5th grade. Miss Patricia engages the children's creativity while teaching them the timeless stories of scripture.
Bible Study
We believe the Bible is the most important and relevant source for finding direction in our church and in our lives. We also believe that interpreting it is a task best done in community. So every Monday night, we have our "Preparation Bible Study" – an open discussion with Pastor Brad where we study that coming Sunday's text for the sermon.